Home
>
News
>
enterprise news
>
Academic and industrial win-win/ Jiangsu Junxia and Shandong University reached a strategic cooperation
Academic and industrial win-win/ Jiangsu Junxia and Shandong University reached a strategic cooperation
On May 12, the industry, study and research cooperation ceremony for Jiangsu Junxia Gym Equipment Co., Ltd. and Shandong University was formally held in Junxia conference room. The signing ceremony was led by Ms. Wang Beibei, Head of the Pizhou Science and Technology Bureau, attended by Mr. Gao Dengxian, Deputy Mayor of Pizhou, Mr. Qiu Daobin, Secretary of Mechanical Engineering School of Shandong University, and Mr. Heng Dunjian, President of Junxia.
At the beginning of the meeting, Mr. Gao, the Deputy Vice Mayor mayor first made a welcome speech. He highly appraised the signing of the strategic cooperation agreement which he believed would act as a protection to the economic development of Pizhou. Further more, the built of this kind of school-enterprise cooperation platform will not only bring greater social commercial benefit, but also better serve the economic construction of Pizhou and enterprise development. Then, Mr. Qiu Daobin, Secretary of Mechanical Engineering School of Shandong University gave a speech. He said that the new cooperation mode between industrial enterprises and academic schools came into being in the process of exploring the new mode of university education development. In line with the goal of building a practical university, Shandong University has continuously strengthened the cooperation between universities and enterprises in recent years to achieve seamless integration of academic research and industrial production. He also mentioned that Junxia as the first few domestic fitness equipment manufactgurers, has unique advantage in mechanical R&D and production. Through the school-enterprise cooperation, we could promote active interactions bentween school and enterprise, and generate greater benefits for both.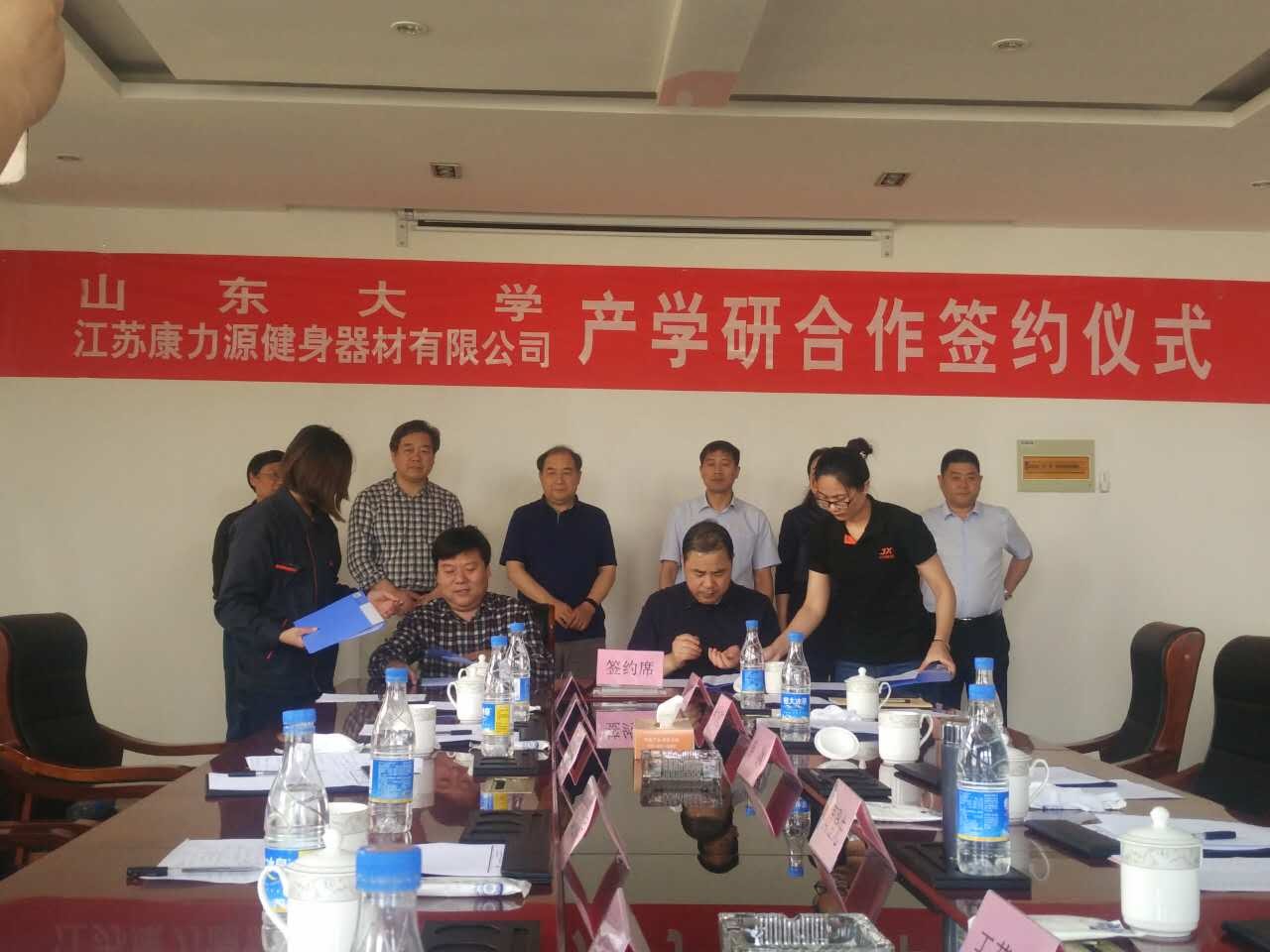 following, Mr. Heng Dunjian gave a speech. Firstly, he expressed his gratitude to the leaders who attended the meeting for their support of Junxia. Junxia, as the largest fitness equipment manufacturer in Jiangsu, has set our design concept as "made for sports". Over the years, we have endeavored to provide the users with superior fiteness experiences. We have accumulated rich experience in fitness equipment development and production. Taking advantage of the scientific research strengths of Shandong University, Mr. Heng expected that the cooperation would bring fresh blood to the company's R&D. Through the all-round, multi-level, multi-field cooperation of both parties, it is hoped that we could share resources, achieve win win status and mutual development.
After the speech, Junxia Presiden Mr. Heng Dunjian and Mr. Qiu Daobin, Secretary of Mechanical Engineering School of Shandong University, signed the cooperation agreement. According to the agreement, Junxia will comprehensively cooperate with the Mechanical Engineering School of Shandong University in personnel training, scientific research and practice, technical cooperation, and talent introduction, and strive to achieve "school-enterprise cooperation, industrial and academic win-win" situation.